---
Quick Start
Welcome to the administrative guide to using your Pegasus Gateway effectively. 
Terminology: 
API – used by developers to develop their own applications using data from your Gateway. More info
Jobs – whenever a report is generated it creates a job, which is a script that handles the data you request from the report in our servers
Tasks – also known as scheduled reports, they are set on a custom schedule and can execute jobs automatically
Accessories – the system can handle lots of sensors and accessories depending on your application, for example:

iButton™ – unique id that's printed on a dime sized chip, used to identify drivers.
RFID – used for remote identification of things and people
Bluetooth Tag – multi sensor that can measure temperature / humidity / light and more.
ECU or ECU Monitor – Engine Control Unit – this is the accessory that connects to your vehicle's OBDII port or truck's J1939/J1708 port in order to read the engine data
Temperature or Analog Interface – this sensor measures temperature with 3 probes, or analog readings
Photocam – photo capturing camera
Serial Expander – used to connect multiple cameras
Input / Output Expander – used to extend the amount of input sensors and outputs per device
Satcom – communicates with 
Technoton™ – used to connect to a fuel tank for level measurement
Mobileye™ – smart collision avoidance system that can monitor your driver's behavior in realtime
Administration
The following sections are recommended for all admins to follow in order to get the full customizable gateway experience.
Setting your Main E-Mail Account
By default all messages are sent from pegasus@digitalcomtech.com
If you would like to make it your own, example: support@yourdomain.com please follow the instructions below, once done please fill out the form at the bottom of the page:
Instructions
Click here to download the instructions
---
Taurus Tracker Application
Read the guide below to get started on using Taurus for your Android or iPhone devices.
The new updates include ability to create checkpoints, check in using QR codes, and assign yourself to a nearby vehicle.
FAQ & Troubleshooting
English
Spanish
Alexa
The following guide will show you how to interact with Syrus devices using Amazon's Alexa to send voice commands,
you can do things like, request location, take pictures, activate outputs, and get the distances or fuel consumed for a time period.
How to Make a Managed Configuration
Working with Labels & Events
Haga click aqui para la version en español.
Guide for administrators to personalize and create their own labels for managed configurations on Pegasus Gateway.
Forwarders
DCT can install forwarders on your site, following their creation you can edit and update them in the following way.
Note, only forwarders with protocol: FWD:json_fwd can be edited.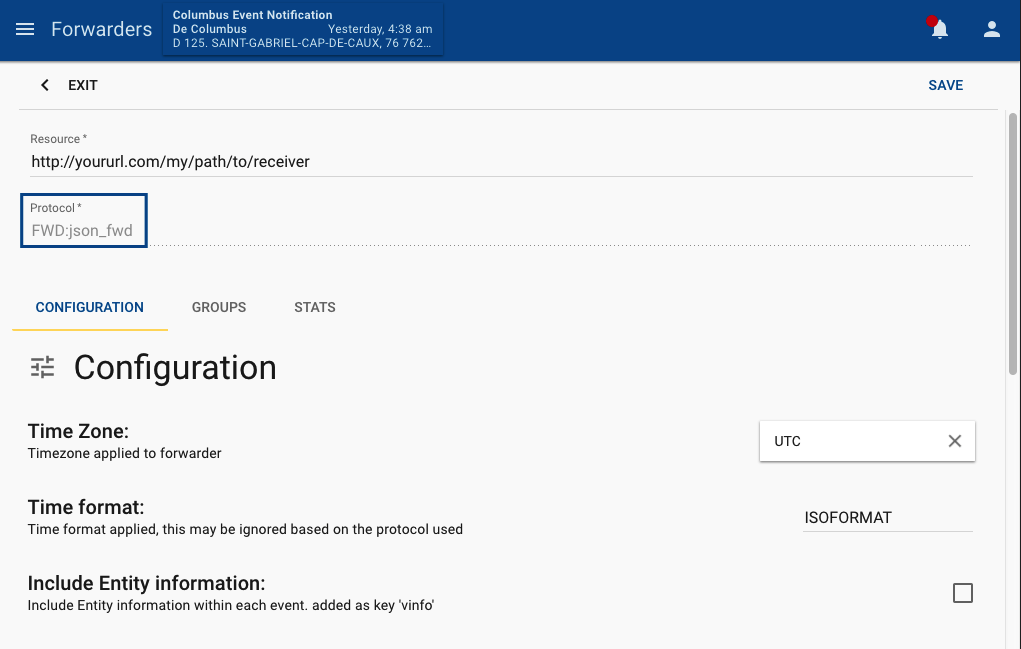 Time Zone

By default the timestamp the data is sent with is UTC.  The keys this affects is
event time: 2017-11-05T16:04:31+00:00
system_time: 2018-06-04T23:34:49.751085+00:00

If you update it to America/Los_Angeles (UTC-7) for example, the updated timestamps will be sent with:
event time: 2017-11-05T09:04:31-07:00
system_time: 2018-06-04T16:34:49.751085-07:00
Time format

example %Y-%m-%d %H:%M:%S
gives you YYYY-MM-DD hh:mm:ss, example: 2018-12-25 23:59:59
For more info visit: datetime python library
Include Entity information

 Here's an example of the json that's sent once this key is included.
{
  ...
  "vinfo": {
    "name": "Vehicle name",
    "tank_volume": 100,
    "year": "2000",
    "color": "red",
    "make": "Kenworth",
    "time": 1476907805.7595339,
    "vin": "3WKAD40X1EF853689",
    "license_plate": "531EB5",
    "vehicle": 426,
    "model": "T660",
    "tank_unit": "gallon",
    "id": 411,
    "description": "this is a custom description for this vehicle"
  },
  "lon": -101.95036,
  "lat": 21.25357,
  "device_id": 356612021371077
  ...
}
Extra Headers
You can choose to add additional headers on the forwarder as well:

General configuration
The general configuration is comprised of a JSON object which has any of the following keys defined:
legacy, boolean, when true it sends the lat/lon as integers values
protocol, string, when set to "rpc", it wraps the json array of events in the following envelope  {"params":[1,[...]],"method":"pushevents","id":1}
keys_include, array, use it to include keys that are not defined in the keys output
keys_exclude, array, use it to exclude any keys from the forwarder
codes_map, json,

 object with key-value pairs, the keys should be the original event_code, the value represents the value to which it will be switched

filter_in, array, only forwards events from these event codes
filter_out, array, removes any unwanted event codes from forwarding data
stop_send, boolean, when true it pauses the forwarder
stop_queue, boolean, when true it stops queuing events, therefore they are discarded
labels_in, array, only allows certain labels to forward data
labels_out, array, exclude the following labels from forwarding data
Example:
{
	"keys_include": ["tec_fn", "btt_wreason"],
	"codes_map": {"0": 55, "20": 40},
	"filter_in": [10,12,14],
	"labels_in": ["ignon","ignoff"]
}

Triggers & Automation
FAQ
I'm having issues viewing my popups and receiving alerts
Try opening the portal in an incognito window and see if that fixes the issue, if it's the case then you have a plugin or an extension that's interfering with the gateway